Tabita Rezaire



Mamelles Ancestrales
(2019)
Drawing inspiration from the megalithic landscapes of Senegal and The Gambia, space debris, archaeology, astronomy, numerology, theology and African understandings of the cosmos, Mamelles Ancestrales strives to establish pathways between heaven and earth, between the living and the dead, in a world where celestial bodies, mineral life and spirits sing together.
Cultures throughout the world have always turned to the skies to get their bearings, find answers, and understand the mysteries of the universe. Observing the heavens has impacted on architecture, navigation, agriculture, politics, mathematics – and art. In Mamelles Ancestrales Rezaire investigates the quest of our ancestors and the methods they used to understand and connect to the celestial realms in the face of our contemporary drive for spatial conquest.
The film is the result of the artist's research and expeditions to four megalithic sites: the stone circles of Sine Ngayene and Wanar in Senegal, and Wassu and Kerbatch in The Gambia. Gathering stories from the guardians of the sites, local populations and other understandings from astronomers, archaeologists, and theologians to unfold the mysteries of the thousands of stones circles scattered across Senegambia, Mamelles Ancestrales goes in pursuit of an ancient African Megalithic civilization so as to better understand our own. From petrified brides to burial sites, ancient observatories, ceremonial ground, haunted places, or energy devices, for Rezaire the stone circles become the centre of a scientific, mystic, and cosmological research.
This dance of circular and orbital geometries is imagined as a meditation on outer space and a revelation of the communicative pathways between the cosmos and humankind.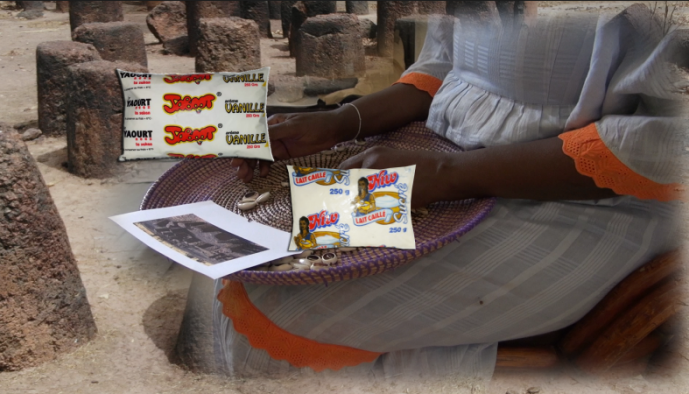 Commissioned by Den Frie Museum of Contemporary Art, Denmark with the support of IFAN, Ker Thiossane in Senegal and Digital Earth Fellowship, Netherlands.
(images : Tabita Rezaire, Mamelles Ancestrales (2019), film stills courtesy of the artist)
Tabita Rezaire
is infinity longing to experience itself in human form. Her path as an artist, devotee, yogi, doula, and soon to be farmer is all geared towards manifesting the divine in herself and beyond. As an eternal seeker, Tabita's yearning for connection finds expression in her cross-dimensional practices, which envision network sciences - organic, electronic and spiritual - as healing technologies to serve the shift towards heart consciousness.
Embracing digital, corporeal and ancestral memory, she digs into scientific imaginaries and mystical realms to tackle the colonial wounds and energetic imbalances that affect the songs of our body-mind-spirits. Through screen interfaces and healing circles, her offerings aim to nurture our collective growth and expand our capacity for togetherness.
Tabita is based near Cayenne in French Guyana, where she is currently studying Agriculture and birthing AMAKABA - her vision for collective healing in the Amazonian forest. Tabita is devoted to becoming a mother to the world.