Kornelia Remø Klokk, Babel on Babalon (2018) video, film still courtesy of the artist
Kornelia Remø Klokk
Babel on Babalon
(2018)
Dyskopikon and the Spiral of Kosmik Spekulation /// presents /// Janusalia Geminalia
(2015)
(o)
(2016)
monas
(2017)
±33±
(2018)
D.U.S.T. [heuk]
(2019)
z
(2021)
9.7352°
(2021)


(image above: Kornelia Remø Klokk, Babel on Babalon (2018) video, film still courtesy of the artist)
The installation On Mythopoesis and Constructed Realities works as a cumulation of individual pieces of art created over a period of several years. The pieces are each and of themselves complete, as well as fragments of a bigger picture; an exercise in worlding and mythopoesis. It explores the construction and continuation of worldbuilding within an art practice, where material and digital realms melt into a fluid temporality manifested within the so-called G0LD-N R34LM. The G0LD-N R34LM is a fictional reality where its essence and true life force is the precious metal gold in all its forms; metaphorical, metaphysical, symbolic and materialistic. It functions as a living organism of ideas, exploration and mythopoesis in

constant development. It is used as a tool to step away from the human hierarchy, by using elements from posthumanism and speculative environments to bind together multiple dimensions into an interconnected web, where all the elements are simultaneously singular and conjoined; morphed into a continuous loop of creation.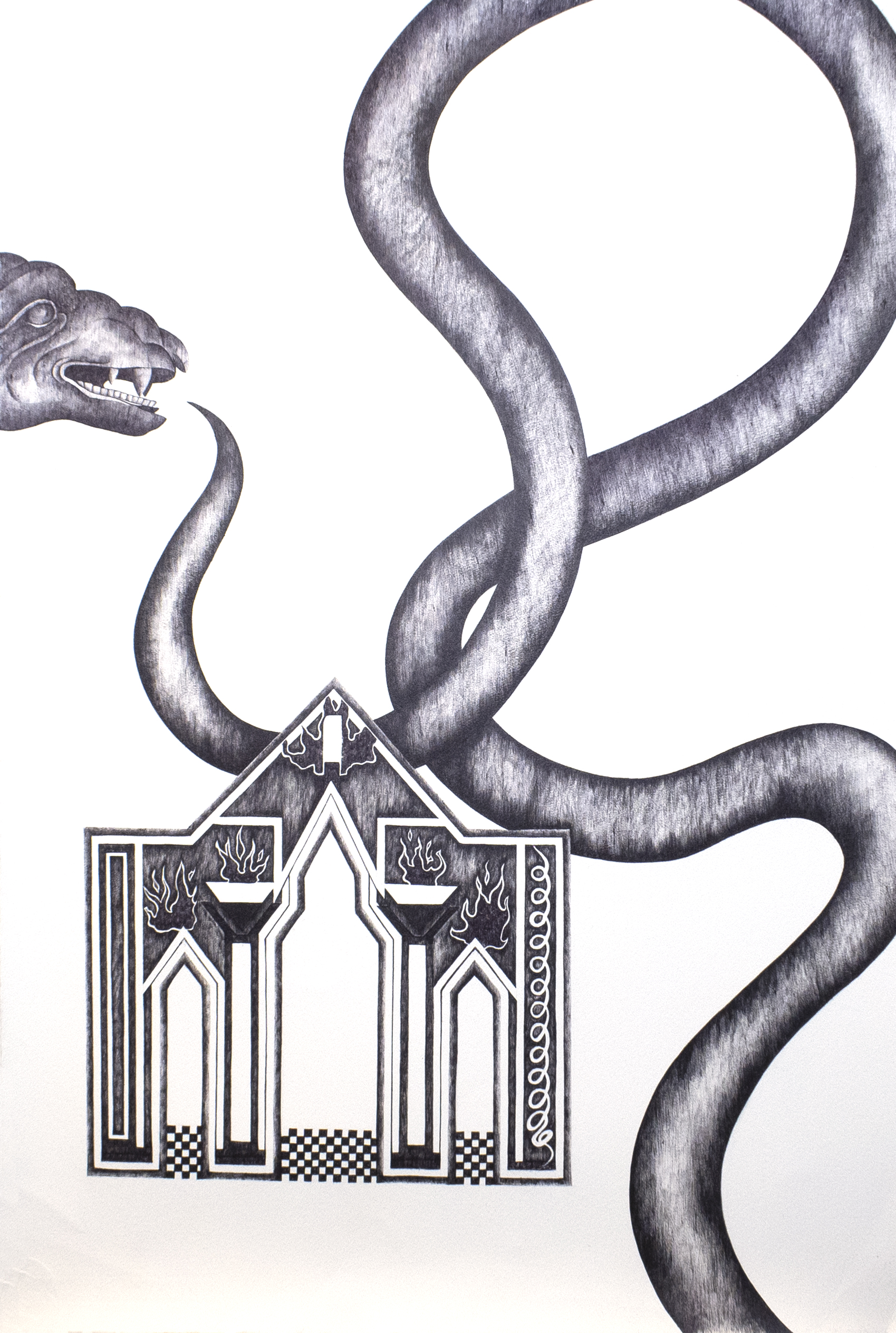 (N
(image credit : Kornelia Remø Klokk, sketch, Serpent Gate, based on Babel on Babalon, courtesy of the artist)


Kornelia Remø Klokk is a visual artist living and working in Oslo, Norway. Her work draws on references from posthumanism, speculative fiction and escapism, where she explores the intersection between belief, culture, reality/truth and technology. Through a loop of mythopoesis, worlding and constructed reality, she creates environments where comfort and familiarity appeals to the viewer and lures them into a realm of the unknown, where the visual consumer goes through endless fragments of meaning and meaninglessness in the search for interconnectivity. This is presented in the form of textile, video, multimedia-installations and 2-dimensional works. Klokk holds an MFA from Oslo National Academy of the Arts, and a BA(Hons) in Painting & Printmaking from Glasgow School of Art. She has had solo exhibitions at Galleri Memphis and K4 in Oslo, and her works have been shown amongst others at Bærum Kunsthall and The Wrong Biennale.