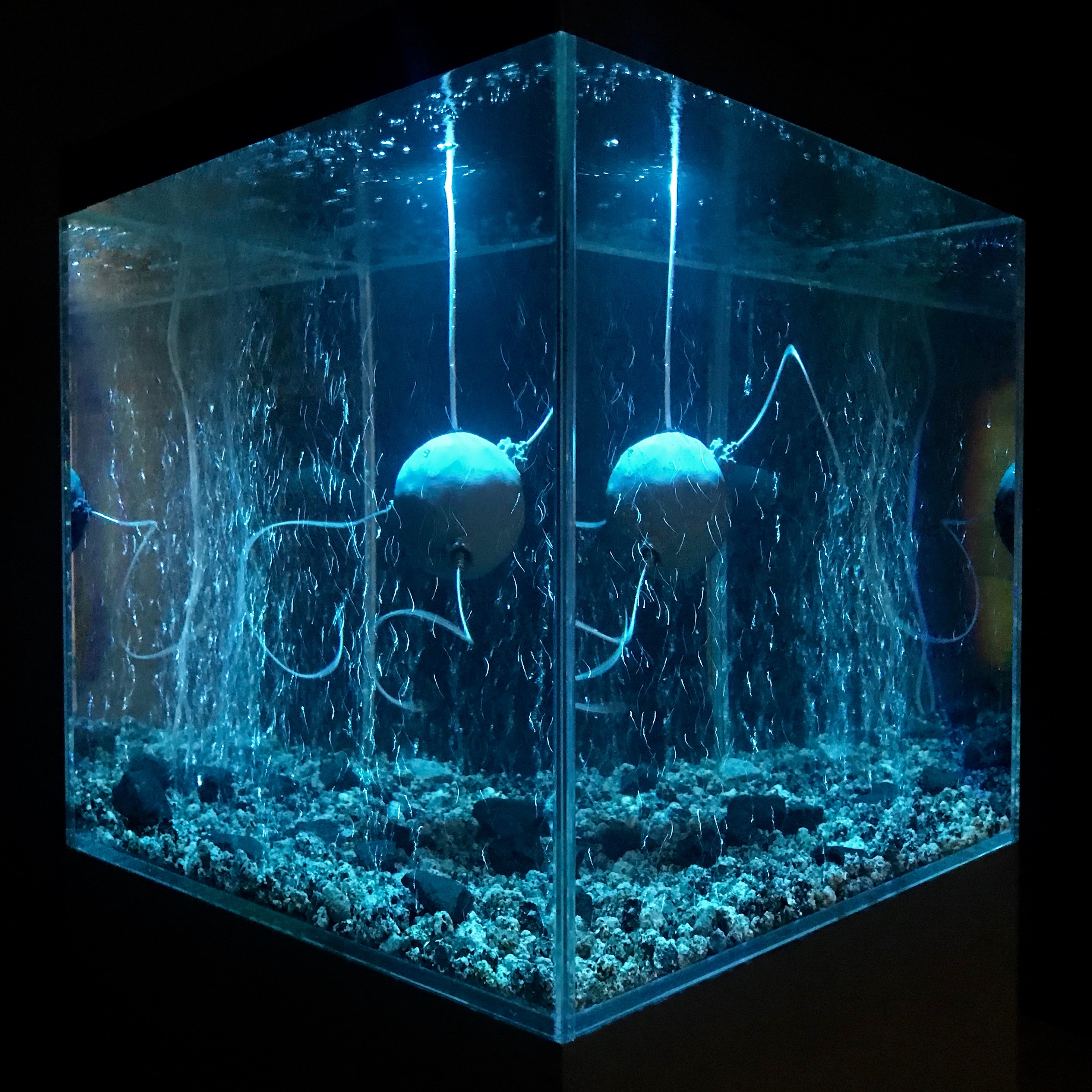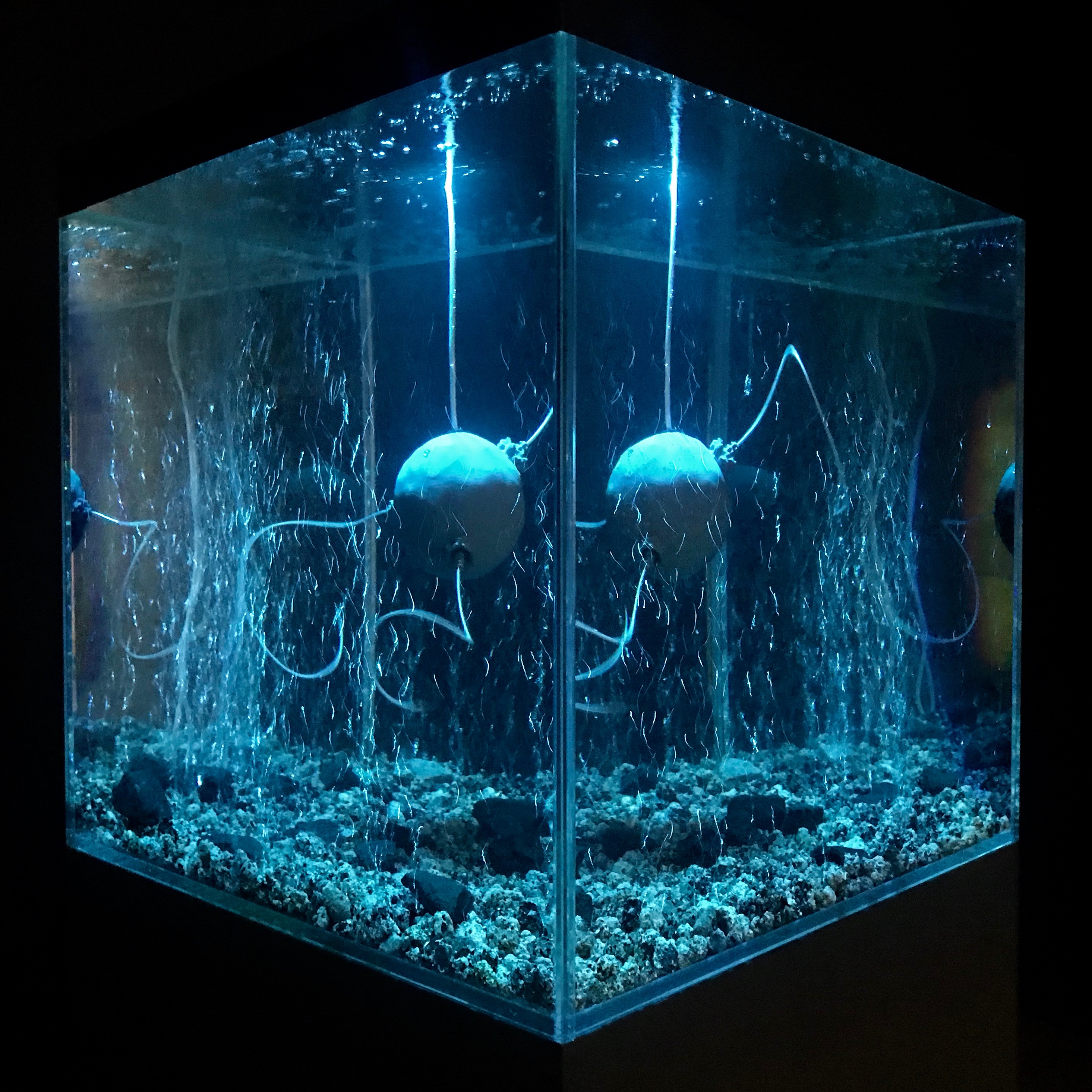 Anna Dumitriu & Alex May

ArchaeaBot: A Post Singularity and Post Climate Change Life-form
(2018-19)
ArchaeaBot: A Post Singularity and Post Climate Change Life-form takes the form of an underwater robotic installation that explores what 'life' might mean in a post singularity, post climate change future. The project is based on new research about archaea (the oldest life forms on Earth) combined with the latest innovations in machine learning & artificial intelligence creating the 'ultimate' species for the end of the world as we know it. New research is revealing the mechanisms by which ancient archaea called Sulfolobus acidocaldarius can move around to seek 'food' using tails known as archaella. The archaella use cogwheel-like 'motors' to swim about. Our collaborator cryo-microscopist Amanda Wilson studied the structure of these archaella to make tiny drills made of DNA which might be used to drill into cells to cure diseases, but the robotic archaella are made through 3D printing.



(This work was made in collaboration with researcher/cryomicroscopist Amanda Wilson as part of the EU FET Open H2020 funded MARA project based in the Beeby Lab at Imperial College London, and with Professor Daniel Polani from the School of Computer Science at the University of Hertfordshire. The project was supported through an EMAP/EMARE artists' residency at LABoral Centro de Arte y Creación Industrial in Spain via funding from Creative Europe and with support from Arts Council England.)



Image above & bottom left : Anna Dumitriu & Alex May, ArchaeaBot: A Post Singularity and Post Climate Change Life-form in collaboration with scientist Amanda Wilson, Imperial College,
photo credit: Alex May
Image bottom right : Anna Dumitriu & Alex May, preliminary design for ArchaeaBot: A Post Singularity and Post Climate Change Life-form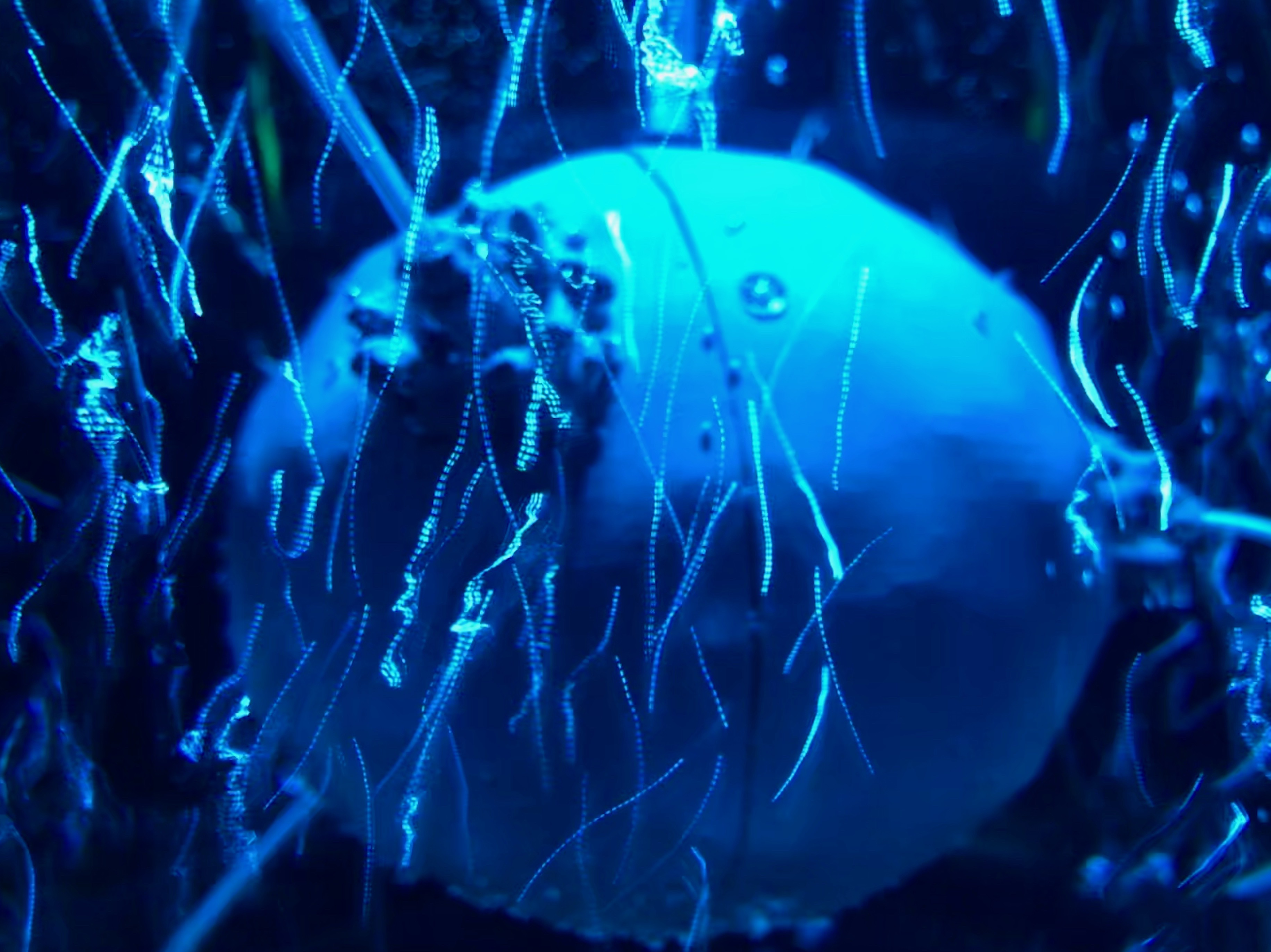 Anna Dumitriu is a British artist who works with BioArt, sculpture, installation, and digital media to explore our relationship to infectious diseases, synthetic biology and robotics. She has an extensive international exhibition profile including ZKM, Ars Electronica, BOZAR, The Picasso Museum, The V & A Museum, Philadelphia Science Center, MOCA Taipei, LABoral, Art Laboratory Berlin, and The Museum of the History of Science Oxford. She was the 2018 President of the Science and the Arts section of the British Science Association and holds visiting research fellowships at the University of Hertfordshire, Brighton and Sussex Medical School, and Waag Society, as well as artist-in-residence roles with Modernising Medical Microbiology Project at the University of Oxford, the National Collection of Type Cultures at Public Health England, the University of Natural Resources and Life Sciences in Vienna, and the Institute of Epigenetics and Stem Cells at the Helmholtz Zentrum in Munich.

Alex May is a British contemporary artist questioning how our individual and collective experiences of time, and formation of memories and cultural record, are mediated, expanded, and directed by contemporary technologies. His work forges creative links between art, science, and technology through a wide range of digital new media, including virtual and augmented reality, photogrammetry, algorithmic photography, interactive robotic artworks, video projection mapping, generative works, performance, and video and sound art.
His international exhibition profile includes Ars Electronica, LABoral (ESP), IMPAKT (NL), FACT (Liverpool), Furtherfield (London), WRO Media Art Bienalle (PL), HeK Basel (CH), The Francis Crick Institute, Bletchley Park, Eden Project, Science Gallery in Dublin (IRL) and Bengaluru (IND), ZHI Art Museum (CHN), and the Beall Center for Art + Technology, University of California, Irvine (USA).