21 January - 20 February 2022
Space C, Spazju Kreattiv, MT










︎︎︎

Reflecting on human time-scales, alongside the deep time of the universe, this project explores possible inclusive futures via world-building and speculative art practices, while consciously avoiding the replication of colonial models. Ultimately, the project questions what kinds of new worlds can be created and what kind of rules these worlds will have to follow.

Informed by Donna Haraway's Speculative Fabulations this exhibition looks towards cosmologies and ecosystems for inspirations, answers, and prophecies. Exploring practices that are speculative rather than empirically scientific, it reflects on the limits of human knowledge of our own planet, alongside humankind's increasing desire to extend itself to neighbouring planets and planetary systems.

In very recent years on the human time-scale, we have witnessed multiple moon landings, frequent image flow from Mars and the neo-colonial ambitions of a small number of billionaires. This project shifts the perspective towards non-privileged humans, nonhumans, biomes and Martian life forms in order to reflect on space colonisation and planetary time.

Looking back through millennia, the project imagines the births and deaths of planets, the creation of the cosmos, the universe, and our home the earth. Looking forward, the project speculates on how other worlds are being explored or created, and questions if space really is humankind's final frontier.

New and existing works - and the interaction between them - seek a deeper understanding of the origins of humankind in cosmological, geological and evolutionary terms that can serve to develop long-term evolutionary perspectives. Is humankind struggling in its capacity to face up to the existential crises it is facing? What can we learn from other life forms that have lived through similar extinction-threatening events? And will future generations be born into?


Website design : Letta Shtohryn
Technical support: Andrew Pace
Catalogue design: Christian Lorenz
Communications : Manuela Zammit

This project is supported by Arts Council Malta


Kornelia Remø Klokk, Babel on Babalon (2018) video, film still courtesy of the artist
Kornelia Remø Klokk
Babel on Babalon
(2018)
Dyskopikon and the Spiral of Kosmik Spekulation /// presents /// Janusalia Geminalia
(2015)
(o)
(2016)
monas
(2017)
±33±
(2018)
D.U.S.T. [heuk]
(2019)
z
(2021)
9.7352°
(2021)


(image above: Kornelia Remø Klokk, Babel on Babalon (2018) video, film still courtesy of the artist)
The installation On Mythopoesis and Constructed Realities works as a cumulation of individual pieces of art created over a period of several years. The pieces are each and of themselves complete, as well as fragments of a bigger picture; an exercise in worlding and mythopoesis. It explores the construction and continuation of worldbuilding within an art practice, where material and digital realms melt into a fluid temporality manifested within the so-called G0LD-N R34LM. The G0LD-N R34LM is a fictional reality where its essence and true life force is the precious metal gold in all its forms; metaphorical, metaphysical, symbolic and materialistic. It functions as a living organism of ideas, exploration and mythopoesis in

constant development. It is used as a tool to step away from the human hierarchy, by using elements from posthumanism and speculative environments to bind together multiple dimensions into an interconnected web, where all the elements are simultaneously singular and conjoined; morphed into a continuous loop of creation.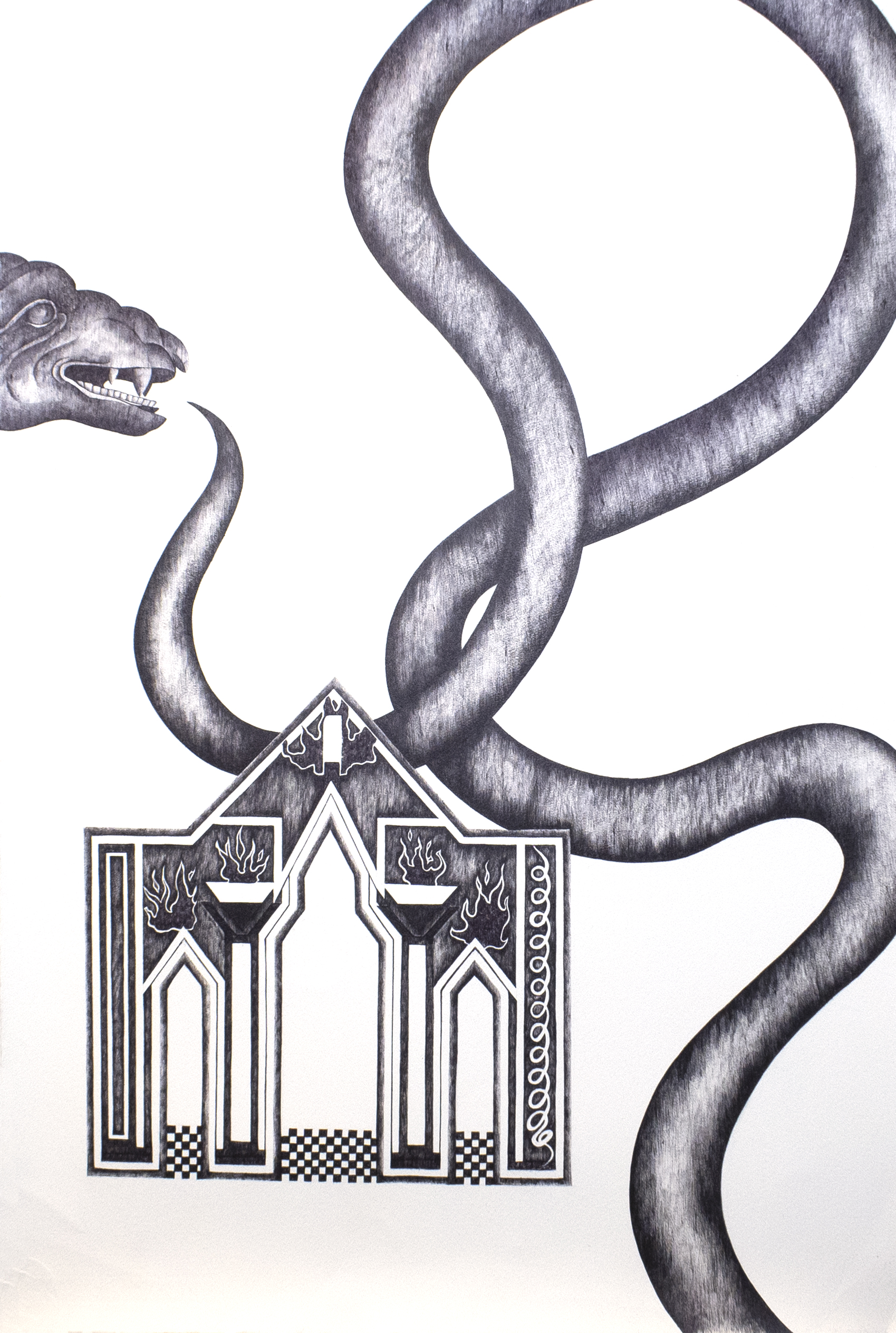 (N
(image credit : Kornelia Remø Klokk, sketch, Serpent Gate, based on Babel on Babalon, courtesy of the artist)


Kornelia Remø Klokk is a visual artist living and working in Oslo, Norway. Her work draws on references from posthumanism, speculative fiction and escapism, where she explores the intersection between belief, culture, reality/truth and technology. Through a loop of mythopoesis, worlding and constructed reality, she creates environments where comfort and familiarity appeals to the viewer and lures them into a realm of the unknown, where the visual consumer goes through endless fragments of meaning and meaninglessness in the search for interconnectivity. This is presented in the form of textile, video, multimedia-installations and 2-dimensional works. Klokk holds an MFA from Oslo National Academy of the Arts, and a BA(Hons) in Painting & Printmaking from Glasgow School of Art. She has had solo exhibitions at Galleri Memphis and K4 in Oslo, and her works have been shown amongst others at Bærum Kunsthall and The Wrong Biennale.
Jenna Sutela
nimiia cétiï
(2018)

nimiia cétiï is an audiovisual work by Jenna Sutela using machine learning to generate a new written and spoken language. This language is based on the computer's interpretation of a Martian tongue from the late 1800s, originally channeled by the French medium Hélène Smith and now voiced by Sutela, as well as the movement of Bacillus subtilis nattō, an extremophilic bacterium that, according to recent spaceflight experimentation, can survive on Mars. The machine, in this project, is a medium, channeling messages from entities that usually cannot speak. The work is also about intelligent machines as aliens of our creation.

nimiia cétiï was created in collaboration with Memo Akten and Damien Henry as part of n-dimensions, Google Arts & Culture's artist-in-residence program at Somerset House Studios. Thanks to Kieran Bates from the Institute of Zoology at Imperial College London, Adam Laschinger for sound recordings, and Manus Nijhoff and Leïth Benkhedda for 3D work. The video includes music with Miako Klein in contrabass recorder and Shin-Joo Morgantini in flute, with sound production by Ville Haimala.


(images: Jenna Sutela, nimiia cétiï, film stills, courtesy of the artist)
fs
Jenna Sutela works with words, sounds, and other living media, such as Bacillus subtilis nattō bacteria and the "many-headed" slime mold Physarum polycephalum. Her audiovisual pieces, sculptures, and performances seek to identify and react to precarious social and material moments, often in relation to technology. Sutela's work has been presented at museums and art contexts internationally, including Guggenheim Bilbao, Moderna Museet, Serpentine Galleries, and, most recently, Shanghai Biennale and Liverpool Biennial. She was a Visiting Artist at The MIT Center for Art, Science & Technology (CAST) in 2019-21.